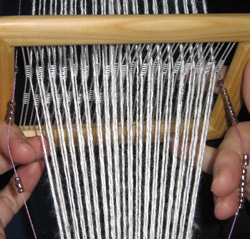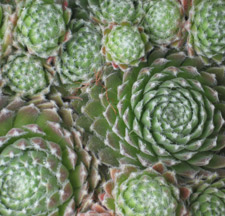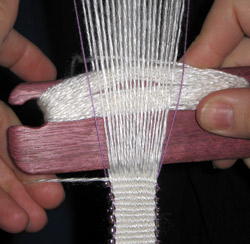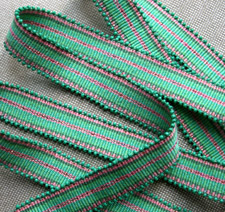 ---
Weaving Tools & Kits
---
Oh, the joy of yarn in our hands!

Weaving is magical. You start with yarn, and you end up with fabric. Narrow or wide, it doesn't matter -- the yarns dance and interlace, and cloth happens as a result.
Small weaving tools are especially satisfying, because they're intimate: you are right there in the moment, completely present, with your hands in the yarns -- for the entire time you're weaving. When you're a handspinner, the yarns are often those you've made yourself -- leading to new depths of pleasure and magic.
You honour the yarns as you weave.
You touch the yarns, and they touch you.
---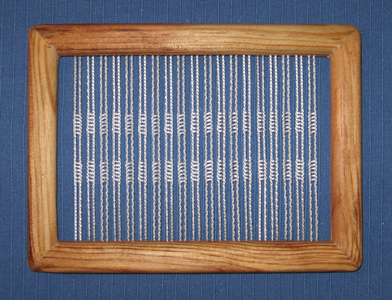 Portable weaving:
The Semi-Rigid Heddle
Be unencumbered. This little tool lets you take small weaving projects wherever you go. It's like a rigid heddle, but its supple TexSolv "eyes" make threading fast and easy. Lightweight, it puts no strain on the warp. It is delightfully portable and quick to set up in the way that best suits you for comfortable weaving.
Put a simple knot at each end of the warp, use a couple of small hardware-store clamps to hold it taut, and you're ready to weave warp-faced bands in plainweave -- anywhere. It's like an inkle loom without all the wood. It's so compact you can carry it in a sandwich bag, even with a weaving in progress.
Traditional European rigid heddles were made of wood, antler, bone, metal, and combinations of those materials. Most were made with very small "eyes", which suited them for weaving only fine yarns -- and producing only ribbons and lightweight, narrow tapes.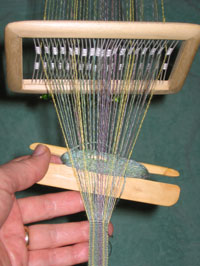 The large eyes in the TexSolv heddles can handle yarns ranging from fine and delicate to chunky and textured. The nature of the woven band depends on the yarns used to weave it: fine threads will produce a ribbon, heavy yarns will produce a strap. At all widths, the warp is ready and eager for pickup patterning -- everything from brocades to woven lace.
The semi-rigid heddle is simple and versatile, but most of all, it's fun! It comes with a small booklet to help you get started.
Made by my own hands, and guaranteed for life.
Heddle supplied with cardboard shuttle: $35.00 plus shipping.
Heddle supplied with pine shuttle: $40.00 plus shipping.
---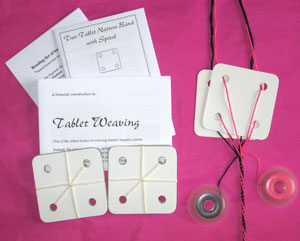 Get yourself started:
Tablet Weaving Kit
Tablet weaving is one of the earliest weaving techniques known to man. From the Iron Age onward, tablet-woven bands were the basis for many important (and beautiful) household goods across the European continent.
Intricate or plain-faced, tablet weaving is a lot of fun. Even simple weavings have a satisfying texture and beauty -- and if you want a firm, durable, non-stretchy strap, a tablet-woven band just can't be beat.
This kit introduces tablet weaving and takes the mystery out of how to turn yarns into a woven band, using pieces of cardboard instead of a loom.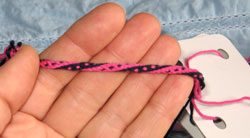 To get you started right away, the kit offers a weaving-in-progress: a simple spiralling band (right) woven on just two tablets! You can literally unpack the kit, tie or clamp the ends of the warp, sit down, and weave. A pictorial introduction to tablet weaving explains how it all works and guides you through the steps of weaving. In addition, there are 18 more tablets and an annotated book list -- everything you'll need for your next leap forward.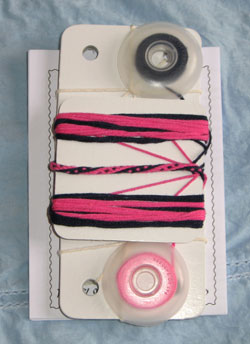 The kit contains:
• a narrow band, pre-threaded on two tablets;
• 18 additional tablets;
• two E-Z bob bobbins to hold the weft;
• a pictorial introduction to tablet weaving;
• directions for the spiralling narrow band;
• an annotated booklist.
$17.00, plus shipping.
---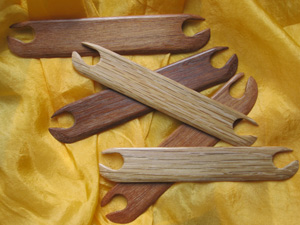 For band weaving and other delights:
SpinningForth Shuttles
A good shuttle feels like part of the weaver's hand. A good shuttle carries the weft, but also moves easily through the shed without snagging warps, pauses along the way to pack the previous pick with its beveled edge, then emerges on the other side, comfortable, compact, ready for the next move.
Last summer I was weaving finer-than-usual bands using a shuttle from my collection. To my dismay, every time I passed the shuttle, its open end snagged one or more warp threads. I changed to a different shuttle, had the same experience. I changed again -- then suddenly realized that I had both wood and tools, and I could make shuttles exactly as I wanted!
All the shuttles from my workbench are easy to wind, but their end openings are tapered to reduce any warp-snagging. The wider lower edge is beveled to a fine, sharp, smooth line for easy and firm packing. They are smooth, snag-free, finished with oil and waxed. They are, in fact, exactly as I like a shuttle to be! :-)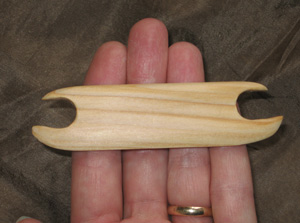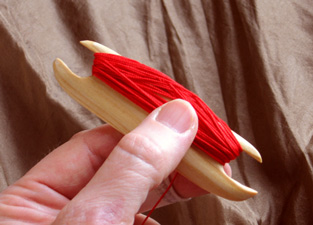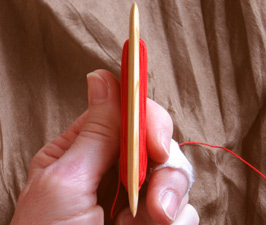 The photo sequence above shows the 4-inch shuttle in pine. (As a side note, any wood that comes from an evergreen resinous tree is called 'pine' by the French -- so these shuttles may actually be made from fir or hemlock or larch, not necessarily pine. It's apparently a language thing.)
Eventually you will see shuttles here in four different sizes: 4-inch and 6-inch (the best sizes for band weaving); and 8-inch and 12-inch (proper stick shuttles for other kinds of weaving). For the moment, only the 4-inch and 6-inch shuttles are available. Be patient -- others will follow!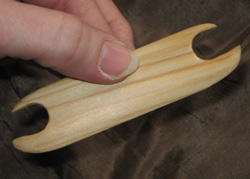 Band-weaving shuttle in Pine
$7.00 plus shipping
---
Return to top of page