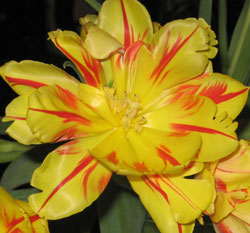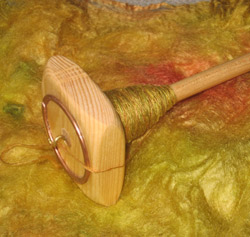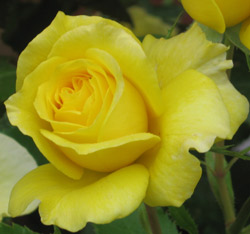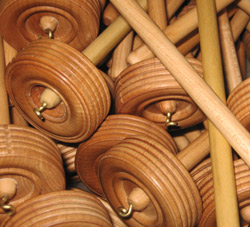 ---
Spinning Tools & Goodies
---
A good tool is a joy forever.

As handspinners, we know all about tactile pleasures. The fibre gliding, the twist nibbling at our fingers, the weight and drape of the yarn... these things feed our joy in life and draw us back again and again for replenishment.
Good tools enhance these pleasures.
The tools listed here are manufactured in my living room (behind the couch!) and carefully tested for balance and smoothness. They're unpretentious, but good -- and they're guaranteed for life.
---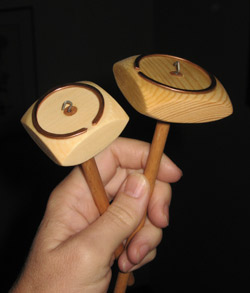 For spinners new and old:
The Squared Circle Spindle

They say Necessity is the mother of Invention, and these spindles are the proof. Up until last year I made spindles that were simple, friendly, comfortable spinners, and (like so many of you) I loved them; but their whorls were "purchased parts" made by someone else. A while ago my supplier ran short of them, then ran completely out. I was patient, but after a year decided it was time to design a new spindle.
The result is better than I'd dared to dream. These elegant new spindles, which a dear friend has named "Squared Circle Spindles", are long-spinning, efficient, sturdy and sleek. They will quickly become your favourites, just as they've become mine.
The square whorl sits still when you set it down on a table; but its tapered shaping lets it spin gracefully like a toned dancer. The hammered copper detail on the top is both beautiful and functional. It puts just enough weight out toward the rim to keep the spindle spinning a long time -- and the small gap between its ends guides your yarn toward the hook at just the right spot for perfect balance.
The whorl is made of clear, light-toned wood from Scandinavia. The shaft is beech, thick enough to be comfortable in the hand, fine enough to spin true. The hooks are spring steel -- cut, shaped and smoothed by hand.
Every part of these spindles is made and finished in my living room. I love them with all my heart. :-)
---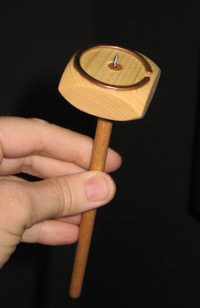 The Small Squared Circle spindle
Spinning super-fine and lace-weight yarns is effortless bliss with this zippy little spindle. Excellent for spinning silk, alpaca, fine wools, cashmere, angora and luxury blends, this spindle speeds along, transforming fibre into pure pleasure. It works so beautifully with silk that it's the spindle I use in my silk spinning classes. It's a joy to use and has proven itself in the hands of both beginners and experienced spinners.
The spindles vary somewhat in weight, but fall into the range between 20 and 30 grams. Weight does not tell the whole story about a spindle -- these spindles are beautifully behaved, without the skittishness of many featherweight spindles. They are uncomplicated, fast and smooth.
This spindle is best for fine fibres and fine yarns. For medium wools and wool blends, or for stretched-cocoon preparations like silk caps and hankies, you may prefer the Medium spindle.

Small Squared Circle spindle, $10.95 plus shipping.
---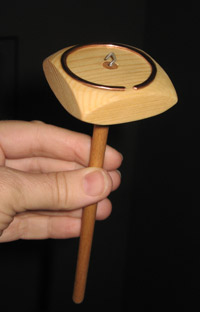 The Medium Squared Circle spindle
Sturdy and smooth-spinning, this is an excellent all-around spindle. It's equally at home with fine or medium wools, wool blends, alpaca and the modern "regenerated" fibres: bamboo, rayon, Tencel. It twirls its way happily through flax and hemp. It transforms a stack of silk hankies into an afternoon of pure joy.
The spindles vary somewhat in weight, but fall into the range between 27 and 37 grams. Weight does not tell the whole story about a spindle -- these spindles are smooth spinners, providing the solid feel of a heavier spindle without exerting any extra "pull" on the fibres. For spinning many different fibres and many weights of yarn, this is the spindle of choice.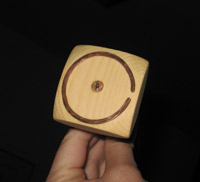 This spindle is excellent for medium wools and wool blends, alpaca, bamboo, Tencel, silk blends and stretched-cocoon preparations (silk caps and hankies). For slippery silks and ultra-fine fibres, you may prefer the Small spindle.

Medium Squared Circle spindle, $10.95 plus shipping.
---
For wheel spinners: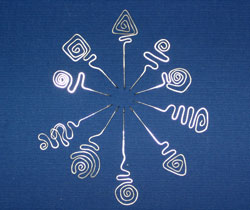 Fetch Hook
If you have a wheel, you need a hook! These hooks fit comfortably in the hand and make threading your wheel's orifice a pleasure rather than a chore.
Handmade and hammered into shape, these hooks fit easily through a 3/8-inch orifice, while their flattened handles are cool, smooth and dense in the hand.
These hooks come in your choice of three materials: galvanized steel, solid brass, or plated silver. They're handmade, and no two are alike.
Suitable for all wheels. If you have special requirements (for example, an old wheel with a tiny orifice), just say so when you place your order.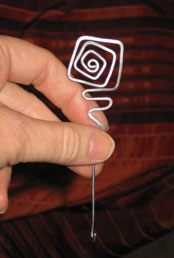 Fetch hook in galvanized steel:
A durable, no-nonsense hook, comfortable and dense, with a hand-forged allure.
$6.00 plus shipping.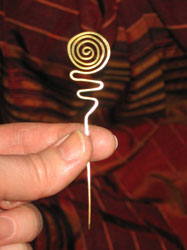 Fetch hook in hammered brass:
A smooth, elegant hook, shiny and comfortable, but not too dressy for everyday work. The nobler material allows finer design detail.
$6.00 plus shipping.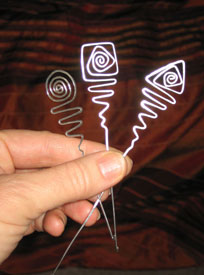 Fetch hook in hammered silver:
Made from silver-plated wire, this hook is sleek, smooth, slender and elegant. Can be used while wearing pearls. ;-)
$6.00 plus shipping.
---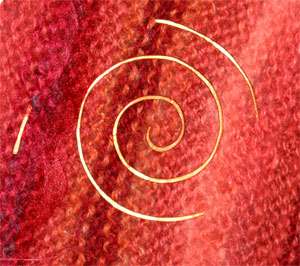 For your scarf or shawl:
Spiral Shawl Pin
This hand-shaped, hammered spiral effortlessly keeps your scarf or shawl in place without piercing or snagging the yarns. It's solid metal, hammered for strength and resiliency, but so lightweight that even loosely-knit wraps retain their shape.
To anchor your shawl with the pin, just slip the end of the spiral through the layers of shawl, bring it back through to the top, and turn the pin. The spiralling shape does all the work for you. To remove the pin, simply rotate it the other way.
The spiral shawl pin is available in your choice of copper or brass.

♦ Copper's warm tones lend casual elegance in any setting and can easily be dressed up or down as needed.
♦ The golden tones of brass place bright accents in your scarf or shawl, catching the light and drawing the eye.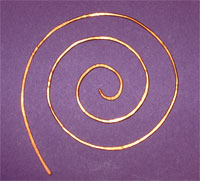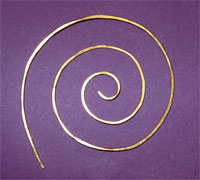 Spiral shawl pin in copper or brass.
$6.00 plus shipping.
---
Return to top of page