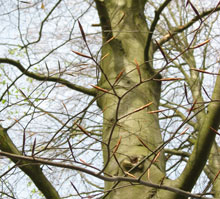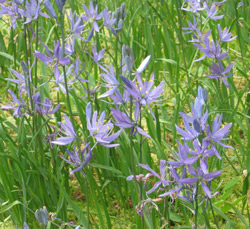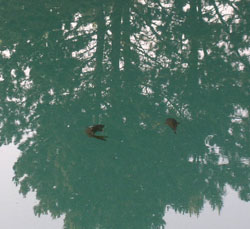 ---
Books, Booklets and Instructions
---
Some of us wouldn't make it in life without books.

Online instructions are great, videos are super -- but a book is a real friend. It can sit on the chair next to you, travel with you in your bag, help you through a tricky problem on a sleepless night.
---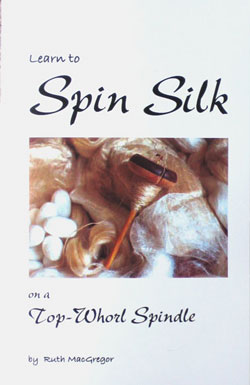 Book:
Learn to Spin Silk on a Top-Whorl Spindle
Have you ever dreamed of silken yarns, shimmering, cool and fresh? Have you wanted to learn to spin, but been put off by wool or fuzzy fibers? Yes?? Then start with this book!
This booklet is slender, but it will teach you to spin silk. From the first page to the last, the focus is silken: what silk is, what it wants from you, and how to get what you want from it.
Suitable for brand-new beginners and experienced spinners. 40 pages. Autographed. $12.00 plus shipping.
Special note: This book is currently being reprinted. (That's a good thing.) Though it's temporarily not in stock, it will be available again soon.
---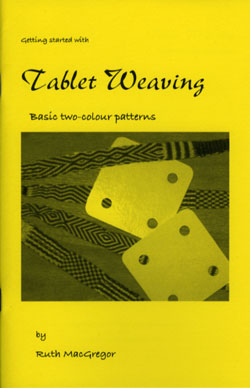 Book:
Tablet Weaving -- Basic two-colour patterns
Tablet weaving: one of the oldest ways to weave, and it doesn't require a loom! Instead, the weaver uses cards, or tablets. In the Iron Age, these tablets were made of wood, bone or leather. Modern weavers use tablets made of wood, cardboard, plastic, rawhide, shell, milk cartons -- materials of our everyday lives.
This is a book for new tablet weavers. In step-by-step photos, it shows you how tablet weaving works, how to set up and get weaving right away, and how to create an amazing array of patterns from a simple two-colour threading.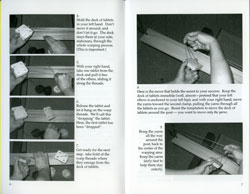 The book begins by stepping you through the warping process with explanations in both photos and words (right). This kind of warping is called "continuous warping". It's just one of many ways to set up a tablet-weaving warp, but it's remarkably fast: you can set up the sample warp illustrated throughout the book in less than fifteen minutes!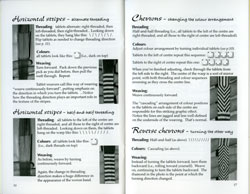 Once the warp is ready, you can weave -- and the balance of the book leads you through an array of patterns that can all be woven on this two-colour sample warp: horizontal and vertical stripes, checks, chevrons, diamonds, diagonals, wavy lines, and double-faced weavings. Each pattern builds on the one before it, and each is presented with its own set-up requirements shown in easy-to-understand format (left).
Suitable for brand-new beginners and experienced tablet weavers. 24 pages. Autographed. $6.50 plus shipping.
---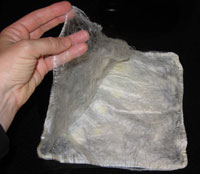 Coming soon:
Spin More Silk!
The stretched-cocoon preparations
The second book in the Silk Series will be available soon. Picking up where the first book left off, this lavishly illustrated booklet describes the "stretched cocoon" forms of silk fiber (caps and hankies) and explores the many delicious ways of handling them.
Texture and ethereal lightness, right there in your hands!
Stay tuned.
---
Wholesale inquiries are welcome! Click here.
---
Return to top of page