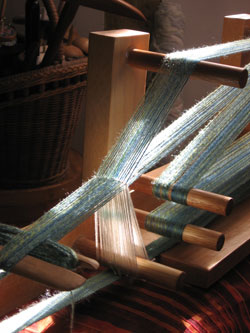 Inkle Weaving
A Visual Introduction
The distinctive loom with its pegs and string heddles lets you quickly produce narrow weavings: tapes, ribbons, bands, straps and belts. For the beginner, though, it can be a little intimidating.
Here's a visual introduction to inkle weaving, presenting the loom itself, how to warp it, and how it works.
If you're new to inkle weaving and would like to see things unfold step-by-step, click the viewer's thumbnails in this order:

(1) Inkle Introduction
(2) Warping an Inkle Loom
(3) Selvedge Control
(4) Advancing the Warp

---
---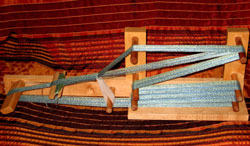 Inkle weaving has been around for a long time, and while some of its history is documented, its origins have been forgotten. Every human culture on earth has devised some way of making narrow weavings; but the distinctive inkle loom with its many pegs for storing warp seems to have been a peculiarly British invention.
Even the origin of the word inkle is unclear. Well before Elizabethan times, the word was in common use and referred to a very narrow woven tape -- a small thing. The smallness of the inkle inspired the word inkling, the name of a tiny idea (for those who favour logical constructs, an inkling is to an idea as an inkle is to a piece of whole cloth).
---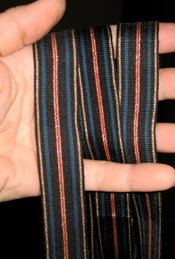 Suggested Reading

Many weaving books contain good information on inkle weaving, and a few books focus exclusively on it. Here are some of my favourite titles:
♦ Atwater, Mary Meigs. Byways in Handweaving.

♦ Bress, Helene. Inkle Weaving. An excellent introduction.

♦ Dixon, Anne. Inkle-Loom Weaving: The Basics, Letter Design, and Baltic Style Patterns (three booklets). Self-published. Available from www.fibrecrafts.com

♦ Neher, Ellen. Inkle. The definitive reference book.
---